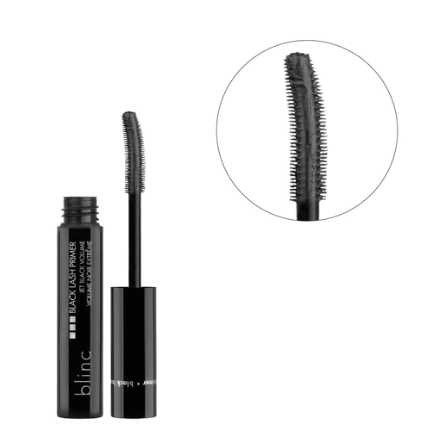 Give your lashes the ultimate foundation for volume and nourishment. The black lash primer by blinc gives your mascara a true black finish while delivering a health-boosting base coat for your eyelashes. 
Why prime your lashes? When you apply eyelash primer, you're not just giving them a conditioning treatment to promote health. You're setting your lashes up to get the most out of whatever mascara you apply. Our primer delivers thicker, longer, healthier lashes.
The blinc black eyelash primer helps you:
Keep lashes separated.

 

Avoid mascara clumping and enjoy lush, fanned-out lashes.
Strengthen your lashes.

 

Primer acts as a conditioning lash treatment to boost your eyelash integrity.
Give your lashes length

. Adding mascara to lengthen lashes helps you avoid over-layering your mascara.

Thicken your lashes.

 

Layer it on before your coats of mascara for a voluminous lash!
Improve your mascara's longevity.

 

When primer holds your lash separation, length, and volume, you'll enjoy your mascara longer during the day.
The vitamins, growth promotion peptides, and other nourishing ingredients in the black lash primer formula support long-lasting moisturization and conditioning. Beginning your lash routine with primer helps protect your lashes from breakage and environmental damage. 
Before putting on your favorite mascara, simply apply a layer (or a few) of eyelash primer. Apply all the layers of primer you'd like within 60 seconds for the best results. Once the primer dries, apply your mascara as usual.
You can use whatever makeup remover you'd like to remove blinc's black lash primer.
APPLICATION 
Apply a single coat and let it set for 30 seconds.

If you'd like more coats, keep applying until you've achieved your desired lash volume, length, and separation. Remember to let your primer set 30 seconds between each coat.

Apply your mascara as usual. We recommend applying your mascara just before your primer is dry to avoid clumping. 
REMOVAL
You can take your eyelash primer off with any makeup remover.
Tips & Tricks
Want to do without mascara? The black lash primer can be used alone for a natural lash look.
Want the lash-fortifying and volumizing benefits on your eyebrows? You can brush the primer onto your brows.
Getting clumps when applying your primer (or mascara over your primer)? Try applying your mascara before the primer has completely dried.