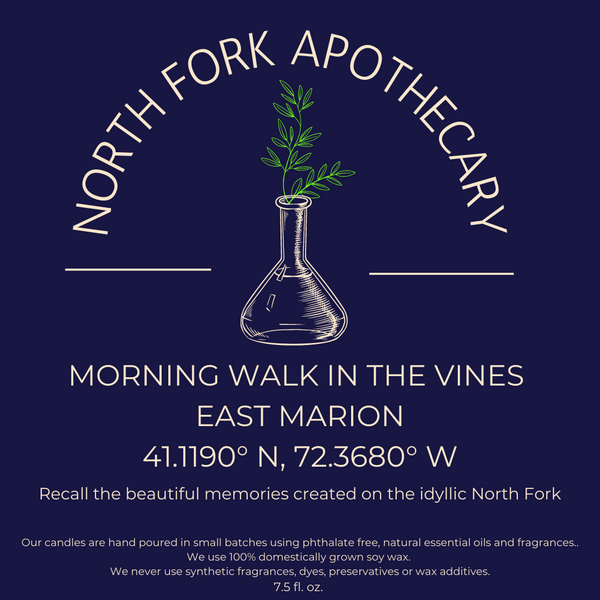 North Fork Apothecary Luxury Candles - Morning Walk in the Vines
The North Fork Apothecary candle collection offers a curious twist on familiar scents that will uplift your spirit and help you recall the beautiful memories created on the idyllic North Fork. Minimally packaged and understated, our candles are the finishing touch that will make your space feel like home.

Our candles are hand poured in small batches in Chicago using phthalate free, natural essential oils and fragrance oils sourced from around the world. We use 100% domestically grown soy wax
and cotton braided wicks primed with vegetable wax. We do not use synthetic fragrances, dyes, preservatives or wax additives.
Our 7.5 oz candle has an approximate burn time of 50 hours with proper care.
Morning Walk in the Vines
With freshly brewed coffee in hand, you set out for a meditative walk. You enter a vineyard and realize that you're instinctively drawn to its labyrinth of vines. The primordial elements found in earth, air and sea blend together to create a creamy, warm, and comforting cocoon of scent. You feel grounded, aware, calm and alive - connected to the vines, the land, the North Fork. You know this is your happy place. Today and forever.
Black glass vessel; includes wood lid.
7.5 oz hand poured scented soy candle. Approximate burn time of 50 hours.
Candle with Lid - Diameter: 3 1/4", Height: 3 3/4" Handmade in Chicago, IL