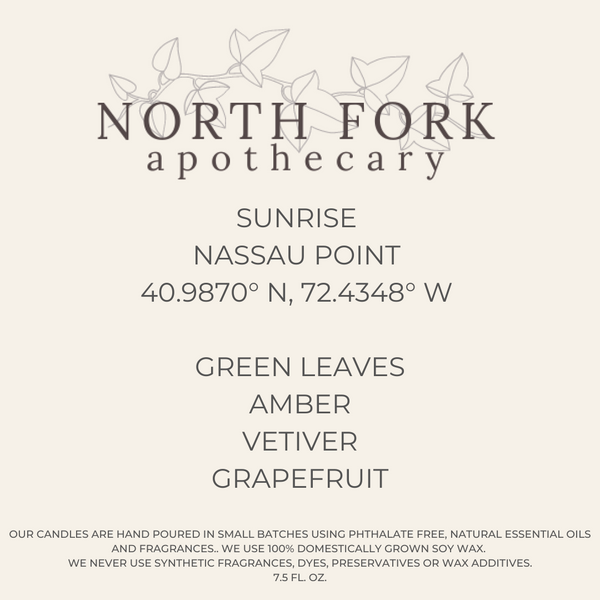 North Fork Apothecary Luxury Candles -Sunrise on Nassau Point
The North Fork Apothecary candle collection offers a curious twist on familiar scents that will uplift your spirit and help you recall the beautiful memories created on the idyllic North Fork. Minimally packaged and understated, our candles are the finishing touch that will make your space feel like home.

Our candles are hand poured in small batches in Chicago using phthalate free, natural essential oils and fragrance oils sourced from around the world. We use 100% domestically grown soy wax and cotton braided wicks primed with vegetable wax. We do not use synthetic fragrances, dyes, preservatives or wax additives.
Our 7.5 oz candle has an approximate burn time of 50 hours with proper care.
Sunrise on Nassau Point 
The fresh scent of morning dew on the Mock Orange blossoms that line the path to the beach. Sitting on the sand, you smell the earthy, woody musk of the sanctuary that is Nassau Point. You're embraced by a pink and orange sunrise that feels nostalgic, but somehow different. Better. You feel invigorated and full of possibility.
Rose gold glass vessel; includes wood lid.
7.5 oz hand poured scented soy candle. Approximate burn time of 50 hours.
Candle with Lid - Diameter: 3 1/4", Height: 3 3/4" Handmade in Chicago, IL