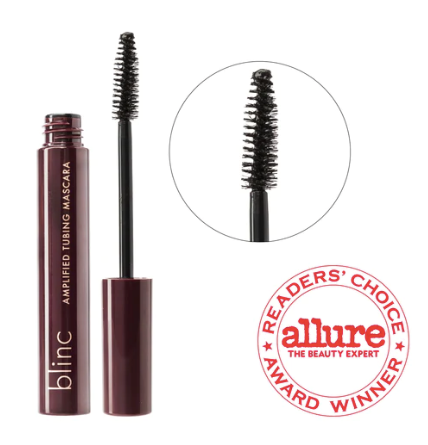 BLINC Amplified Tubing Mascara
Blinc's Amplified Tubing Mascara gives you a soft glam look with ultra-longwearing results. This formula allows you to build volume with a semi-matte finish. The oversized, cone-shaped brush and dense bristles fan out the lashes for a wispy look.
We've pioneered the original tubing technology. Our oil-free formula creates tiny water-resistant "tubes" around each lash. Once applied, the tubes bind to your lashes to hold their shape. No more painting your lashes with an oily formula, like conventional mascara.
Once the mascara formula has set, it can't clump, smudge, run, or flake. It'll hold a curl through sweat, tears, eye-rubbing, and oily skin. 
Amplified is non-irritating and has been clinically tested. This makes it suitable for sensitive eyes and the perfect fit for contact wearers. The longwear formula is also ideal for people with an active lifestyle. It's the easy-to-remove mascara that never makes you compromise on look or hold.
Our original tubing formula holds better than waterproof mascaras, yet it's significantly easier to take off at the end of the day. In fact, makeup removers won't work. Instead, use lots of warm water and apply gentle pressure. The tiny tubes slide off your lashes—no tint or residue left behind. The scrub-free yet thorough removal is healthier for your eyes and lashes.
APPLICATION
Before using blinc tubing mascara, start with clean & dry lashes. Having serums, conditioner, lotion, or other moisture will reduce the mascara's adhesion to your lashes. If you'd like to curl your lashes, do so before applying your mascara.
To apply, begin at the base of your lashes, brushing right up to the ends. As you apply, slightly wiggle the wand side to side. Continue applying until you reach the lift, definition, length & volume you like. Build each layer before the formula dries for the best results.
Remember to clean residual mascara off the opening to make sure the cap closes securely.
REMOVAL
To remove the Amplified Tubing Mascara, use a combination of water and gentle pressure to slide the tiny tubes off your lashes. 
Don't pull your lashes or scrub! Keep applying lots of water until the tubes slide off your lashes on their own. Water and pressure from fingertips, a cotton round, a washcloth, or a showerhead will work just fine.
Makeup removers won't remove tubing mascara. Sweat, tears, or water by itself also won't remove the mascara tubes. Gentle pressure by itself, such as rubbing your eyes or sleeping with the mascara on, also won't remove the mascara tubes.
…and don't worry, those lash-like pieces that come off during the removal process are not your lashes. They're the tiny mascara tubes sliding off your lashes. That's the beauty of our original tubing technology!