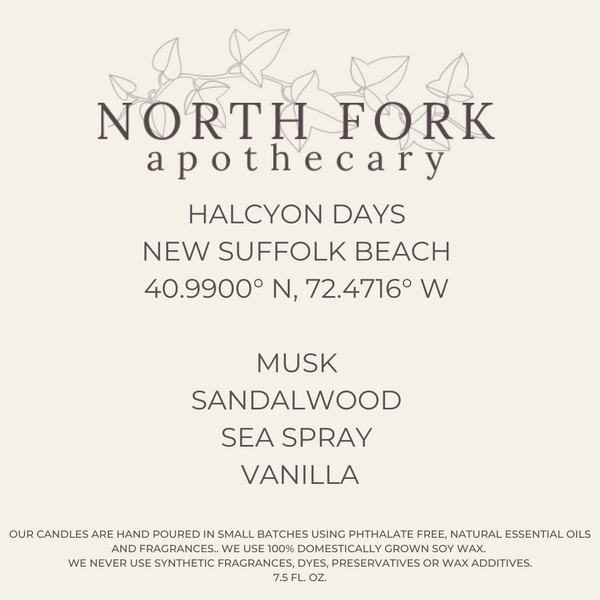 North Fork Apothecary Luxury Candles - Halcyon Days at New Suffolk Beach
The North Fork Apothecary candle collection offers a curious twist on familiar scents that will uplift your spirit and help you recall the beautiful memories created on the idyllic North Fork. Minimally packaged and understated, our candles are the finishing touch that will make your space feel like home.

Our candles are hand poured in small batches in Chicago using phthalate free, natural essential oils and fragrance oils sourced from around the world. We use 100% domestically grown soy wax and cotton braided wicks primed with vegetable wax. We do not use synthetic fragrances, dyes, preservatives or wax additives.
Our 7.5 oz candle has an approximate burn time of 50 hours with proper care.
Halcyon Days 
Lying on the pristine beach of New Suffolk. Sand in your hair, sun-kissed rosy cheeks, the lingering scent of suntan oil. Listen to the waves; it's good for the soul. Tranquilla. Close your eyes. This is the kind of day that makes you feel like you could fall in love at any moment. Connected with the Sun and the surf - you are in love. 
Cobalt blue glass vessel; includes wood lid.
7.5 oz hand poured scented soy candle.
Approximate burn time of 50 hours.
Candle with Lid - Diameter: 3 1/4", Height: 3 3/4"
Handmade in Chicago, IL