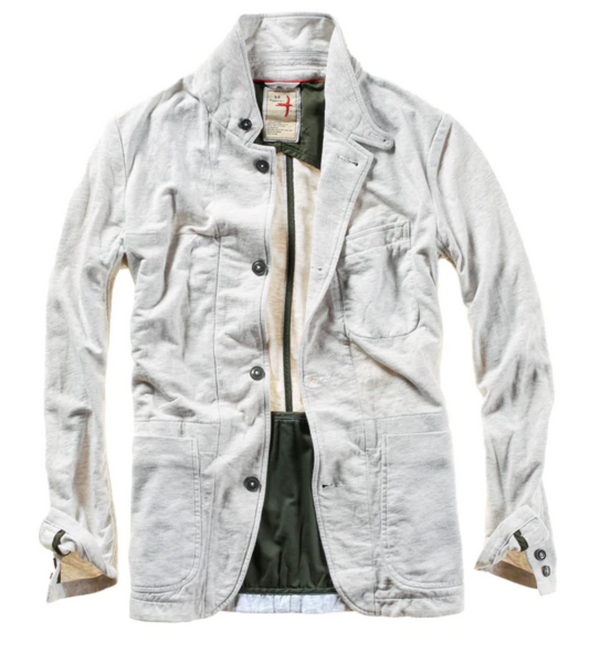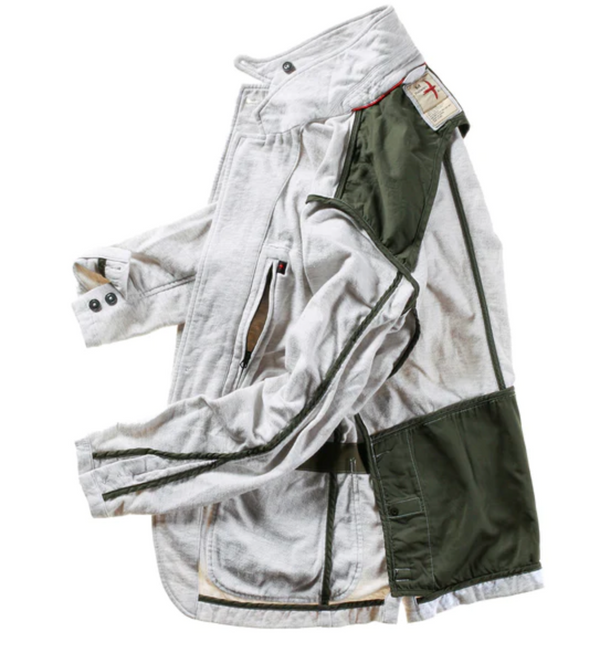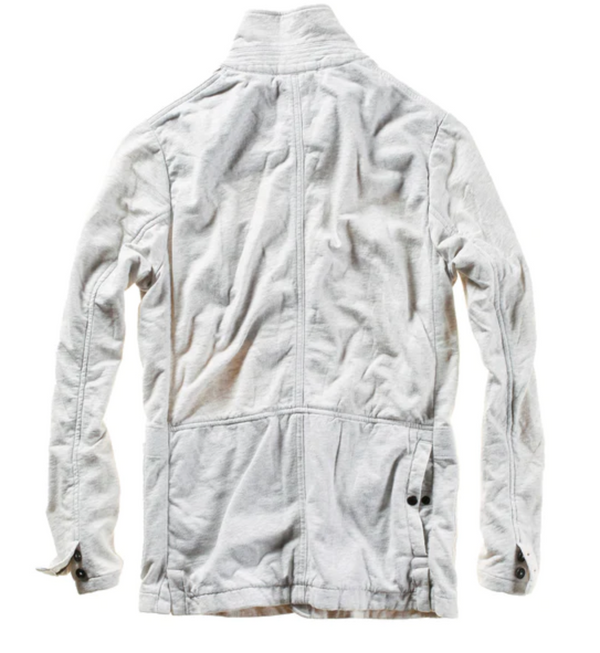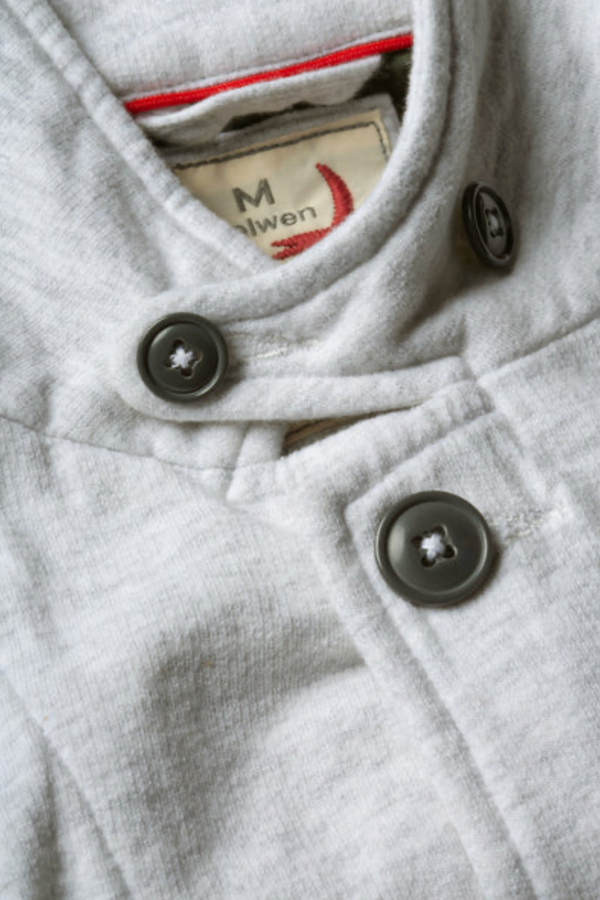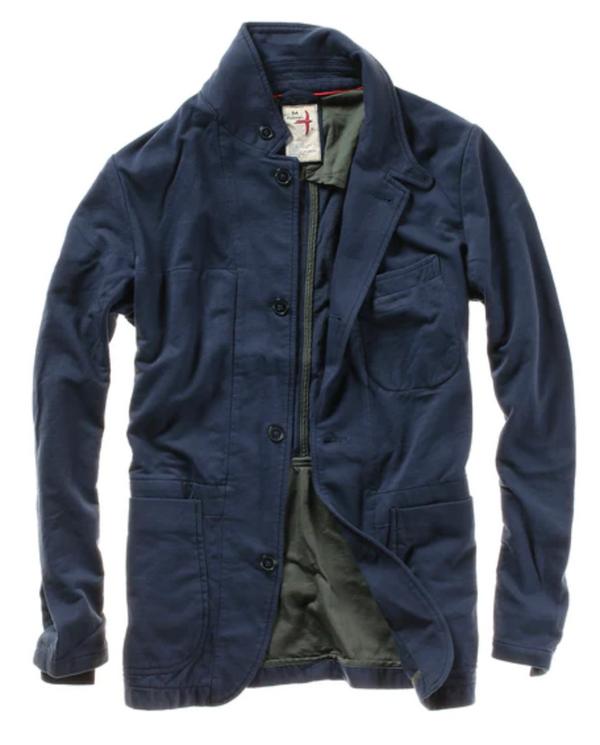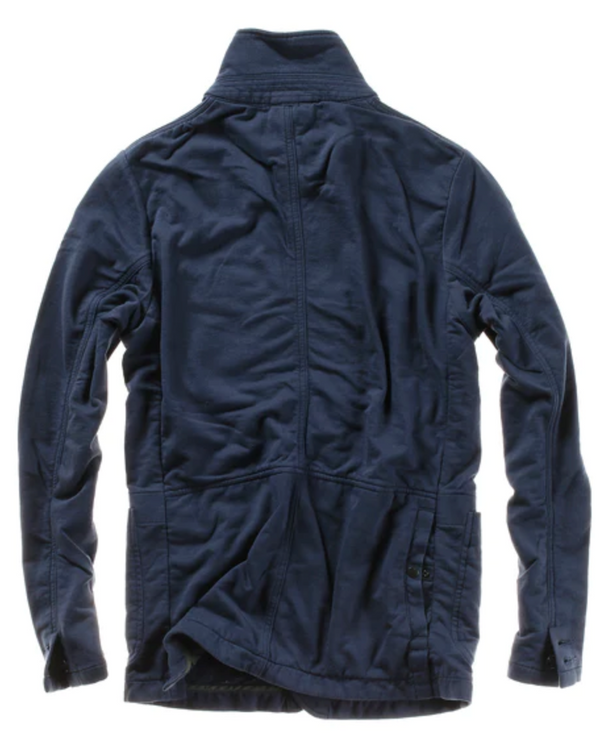 RELWEN LOOPBACK TRAP BLAZER
REWLEN LOOPBACK TRAP BLAZER
Relwen's lightest sweatshirt material has gone 1st class! The words "travel blazer" have never been in our lineage, but if ever there were a "comfort" blazer, this would be that. Built of our lightest and most compact french terry, the material alone is nearly the equivalent of wearing a t-shirt except having enough body and umph to convey confidence as a jacket.  Reminder...this is definitely not your dad's blazer, there is no padding, no stiff "tailoring", it's all you. These are crafted to fit on the fly with working sleeve buttons that are to be rolled, along with other construction surprises you'd only find in serious field jackets. *Built to be wrinkled, lived-in, and never pressed.
fit:  slim cut/fitted, tapered waist, natural shoulder
shell:  100% cotton, subtly textured thick-thin lightweight french terry, 200 gsm/5.9oz

interior trim:  100% cotton woven sateen quarter back cape, rear game pocket, seam bindings

4 button center front + throat tab closure, working sleeve buttons

welt chest pocket with two open patch hand pockets + woven tape backed reinforcements

stitched-thru zipper storage pocket at inside right chest

care:  delicate machine wash cold, no bleach, air dry, steam iron as needed

imported
ABOUT RELWEN
Our brand was born in 2007, the product of an American working heritage.
Heavily influenced by the fields and farms and great lakes of Ohio and Michigan that we were fortunate enough to grow up around, we remain loyal and based here in Ohio.
One of the first garments we made was our Military Parka. Exhaustive detailing went into this piece (and every piece thereafter) to make sure every element provided a sense of heritage and purpose that was straightforward.  Our ultimate aim always being to produce function and a quality of character that will serve for years of wear.
More than anything, we care about getting it right.
And what about that bird? Our icon, the barn swallow, serves to remind us of our agrarian roots. This swift and highly adaptable bird closely cohabitates with us, nesting in man-made structures and feasting on insects detrimental to crops. Longevity of its nests are legendary, one was reported to have been occupied for forty-eight years.
All of this reinforces our mission…to create the kind of clothing that works and will remain relevant and lasting, a hundred years from now.